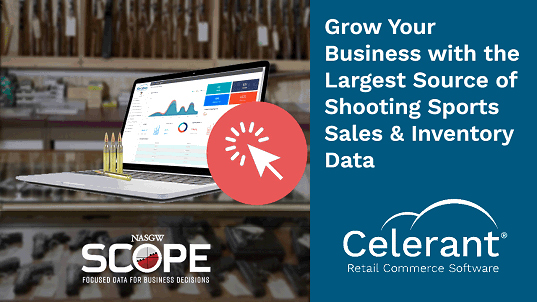 Staten Island, NY (April 2, 2020) – Celerant Technology, a leading provider of innovative retail solutions for the firearms industry, announced today an integration with SCOPE CLX, a business analytics program for the shooting sports industry.
Celerant is a preferred POS provider for SCOPE CLX, which is owned and managed by the National Association of Sporting Goods Wholesalers (NASGW), and supported by industry partners including the National Shooting Sports Foundation (NSSF). Through an integration with Celerant's point of sale solution, the CLX will aggregate data from Federal Firearms Licensed (FFL) retailers across the country to empower dealers with information on consumer demand and product trends, while supporting industry growth.
Retailer benefits of joining SCOPE CLX
NASGW SCOPE is an industry-owned, distributor-led initiative to collect and analyze data that supports shooting sports industry businesses. SCOPE CLX, powered by eComSystems, Inc., along with Celerant's point of sale, will support retailer businesses with data on consumer demand based on stores across the country. The aggregated, anonymous data will show market trends, popular products by region and more.
"Quality data on consumer demand is difficult to come by in the shooting sports industry. The National Association of Sporting Goods Wholesalers (NASGW) is proud to partner with Celerant Technology on SCOPE CLX and integrate with their point of sale software to collect and analyze data for the benefit of retailer businesses. We're looking forward to participating in Celerant's upcoming virtual client conference and helping retailers access this great information."
– Easton Kuboushek, Director of Data Programs, NASGW
In addition, retailers will gain access to SCOPE ALX, an advertising and promotional software solution. SCOPE ALX offers a library of product photos, drag-and-drop design, tools and customizable templates to easily create ads, gun tags and other in store signage.
"Through our partnership with NASGW, we are reinstating the CLX data exchange program that we initiated many years ago with AcuSport. As a preferred POS provider for NASGW, we integrated and offer this service as a value add to firearm dealers, helping them better understand consumer demand and industry trends, and make more informed buying decisions."
– Michele Salerno, Director of Marketing, Celerant Technology
Retailers interested in accessing SCOPE CLX can get started here.
Differentiators and upcoming focus group for Celerant's firearm clients
At Celerant's upcoming client conference, which is now being held virtually and at no cost due to COVID-19, NASGW will be hosting a focus group with Celerant's firearm dealers. The goal of the focus group is to gain feedback, and determine which data dealers would be most valuable, and how they would like to view it within Celerant's retail platform. Through SCOPE CLX, NASGW will provide the aggregated data to Celerant, which will then be displayed in dashboard reports within Celerant's point of sale platform. By providing direct access, dealers will be able to leverage this valuable data to make more informed business decisions without having to login to a third-party website, making the process more efficient and seamless. Dealers interested to learn more or to participate can visit www.celerant.com/partner/scope-clx.
About National Association of Sporting Goods Wholesalers (NASGW)
The National Association of Sporting Goods Wholesalers was organized in 1953 and incorporated in 1954. The Association was originally identified as the Sporting Goods Jobbers Association. In 1962 the name was officially changed, and manufacturers and reps were invited to join as Associate members. The NASGW is the organizer and sponsor of the industry's former Hunting Show, now known as the NASGW Annual Meeting/Expo Event. This annual event provides an unmatched educational, marketing and communications opportunity for the hunting and shooting sports wholesaler, manufacturer and sales professional. For more information, visit www.nasgw.org.