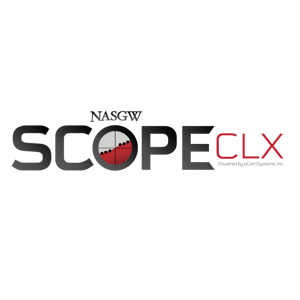 The National Association of Sporting Goods Wholesalers (NASGW) and the National Shooting Sports Foundation (NSSF) are partnering to spread the word about SCOPE CLX, an industry-wide retail sales data program. Retailers have the opportunity to win one of ten $1,000 credits by signing up before Feb. 28 to learn about SCOPE CLX.
SCOPE CLX is an industry owned, distributor led retail data initiative. When launched, retailers will benefit from a deeper understanding of consumer demand, sales trends and inventory analysis. Sales and inventory data is aggregated from stores across the United States.
"SCOPE CLX will be a great way for the entire industry to stay informed," says Kenyon Gleason, NASGW President. "From the manufacturers, to distributors, to retailers, everyone will have an opportunity to gain insights to benefit their businesses."
By signing up on the SCOPE CLX website, retailers will receive information about SCOPE CLX and be entered to win $1,000 in credit to spend with an NASGW distributor of their choice. Deadline for entry is Feb. 28. NASGW and NSSF will hold a live drawing, via social media, on Feb. 29.
To learn more and register to win, visit nasgwscope.org and click on the SCOPE CLX link or contact scope@nasgw.org.
About NASGW
The National Association of Sporting Goods Wholesalers is comprised of wholesalers, manufacturers, independent sales reps, media and service providers - both national and international - all of whom are primarily focused on shooting sports equipment and accessories. As a trade association representing the business interests of its members, NASGW's mission is to bring shooting sports buyers and sellers together. For more information about the NASGW, visit the association's website at www.nasgw.org.
About NSSF
The National Shooting Sports Foundation is the trade association for the firearms industry. Its mission is to promote, protect and preserve hunting and the shooting sports. Formed in 1961, NSSF has a membership of thousands of manufacturers, distributors, firearms retailers, shooting ranges, sportsmen's organizations and publishers nationwide. For more information, log on to www.nssf.org.