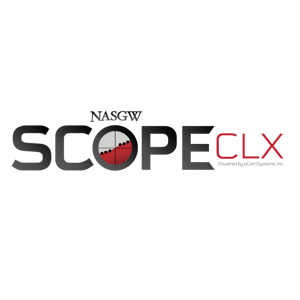 The National Association of Sporting Goods Wholesalers (NASGW) recently announced the acquisition of CustomerLink Exchange (CLX) and the upcoming integration with their existing SCOPE data program. SCOPE CLX, powered by eComSystems, will offer retail sales data to benefit shooting sports businesses.
NASGW has partnered with Florida-based eComSystems, Inc. to continue the retail point-of-sale (POS) aggregation tool originally developed for AcuSport Corporation. SCOPE CLX is integrated with all major retail POS systems, including preferred providers like Celerant and Epicor.
"SCOPE CLX is now an industry-led program backed by NASGW distributors," says Kenyon Gleason, NASGW President. "At its peak with AcuSport, CLX captured data from roughly 400 dealers. We look forward to scaling the number of retailers contributing data to new heights and supporting our industry with data they can use each and every day to make better business decisions."
NASGW will be working closely with the National Shooting Sports Foundation (NSSF) to help retailers benefit from SCOPE CLX and obtain better information on consumer demand.
"CustomerLink Exchange successfully altered the way industry members conducted business, and the way their customers did business, by effectively addressing the needs of today's firearms buyers through the hard numbers that only today's advanced point-of-sale systems can deliver," said Joe Bartozzi, NSSF President and CEO. "In taking that technology, expanding its depth and making it available to all firearms industry members, NASGW and NSSF have seized an unprecedented opportunity to make meaningful, positive, profitable change across the industry spectrum and made it a reality."
Additional information will be available regarding SCOPE CLX within the coming weeks. A launch date for the new platform has not been set but interested manufacturers and retailers can stay informed by subscribing to SCOPE CLX updates at nasgwscope.org. By signing up for further information, retailers will also be entered to win one of ten, $1,000 credits to a NASGW wholesaler of your choice paid by the partnership with NASGW and NSSF. Retailers must sign up by Feb. 28 for the drawing which will be held on Feb. 29.
SCOPE CLX will be complemented by the current data program which tracks shipments and inventory from more than 20 leading distributors. To learn more, visit www.nasgwscope.org or contact scope@nasgw.org.
About NASGW
The National Association of Sporting Goods Wholesalers is comprised of wholesalers, manufacturers, independent sales reps, media and service providers - both national and international - all of whom are primarily focused on shooting sports equipment and accessories. As a trade association representing the business interests of its members, NASGW's mission is to bring shooting sports buyers and sellers together. For more information about the NASGW, visit the association's website at www.nasgw.org.
About NSSF
The National Shooting Sports Foundation is the trade association for the firearms industry. Its mission is to promote, protect and preserve hunting and the shooting sports. Formed in 1961, NSSF has a membership of thousands of manufacturers, distributors, firearms retailers, shooting ranges, sportsmen's organizations and publishers nationwide. For more information, log on to www.nssf.org.