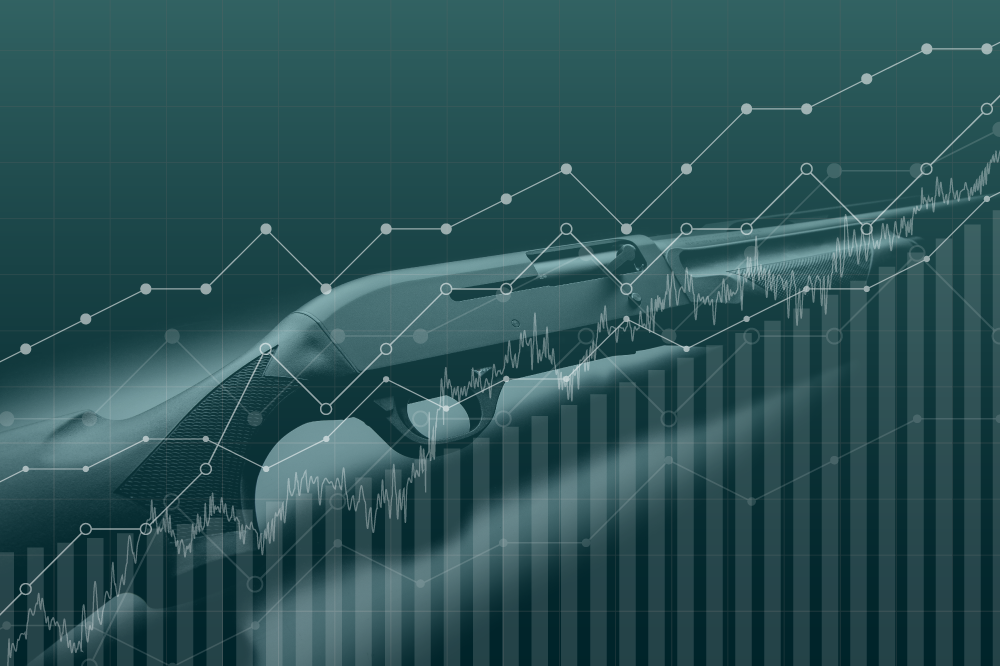 There's a range with shotguns. You either have one, old inherited pump shotgun or a small collection of target and hunting shotguns. Compared to the myriad of handgun and rifle cartridges, variety in shotguns tends to come in action type and appearance.
2020 and 2021 were both strange years for gun sales. The pandemic and political unrest inspired many to look into options for home protection. For whatever reason, most go to a handgun as the first line of defense, even if it isn't the best option given the circumstances. A shotgun is longer and not very concealable, but perfect for someone who just wants something in the house. Shotguns are valued for their versatility. If you want to only own one gun, a shotgun will do for hunting, target shooting, and personal protection.
2019 is what researchers are calling the last normal year of gun sales. Distributor data revealed that in 2019, shotguns made up 8.5% of the firearms market. As of September 2022, they make up 9.7%. This growth in shotgun sales is composed primarily of field guns. Data indicates that as the pandemic fervor began to wane, more hunters got back out in the field.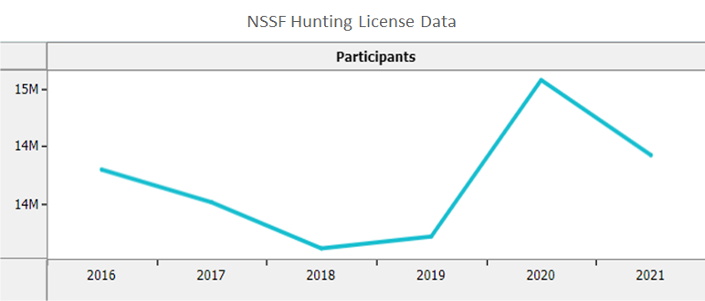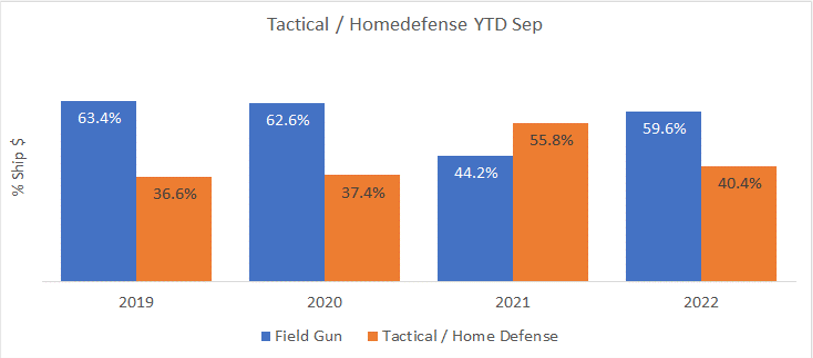 Field guns have exceeded tactical/home defense shotguns for the past several years, excepting 2021, which saw a 44.2% / 55.8% split in favor of home defense. This year, the tides turned again, with field gun sales up 15.4% from 2021.
Though there are several action types, pump and semi-automatic are the most popular. In 2019, pump actions were the most popular, holding 3.6% more of the shotgun market than semi-automatic shotguns. The tables have turned. As the industry has begun to normalize once again, 2022 numbers show that semi-automatics now make up 5.4% more of the shotgun market than pump actions.
Pump-action and semi-automatic shotguns can both be used effectively for self-defense/tactical purposes and field purposes (target shooting, hunting). Aggregate distributor data revealed that across both action types, field guns have been substantially more popular than tactical shotguns with the exception of 2021. The data also shows that though semi-automatic tactical shotguns have seen the biggest change since 2019 (20.92% in 2022 vs. 14.34% in 2019), pump-actions still dominate the tactical shotgun market and semi-automatics dominate the field gun market.
On average, semi-automatic shotguns run about $200 more than a pump-action shotgun. Field guns have also cost more on average than tactical/home defense shotguns since 2019, with the exception of several months in 2020, when they both cost distributors about $385 on average. In summary, distributor data indicates that while shotguns have risen in popularity across the board, retailers (and thereby consumers) are currently purchasing semi-automatic field guns. They aren't choosing the cheapest option, meaning they are spending more money on their hobbies/sports again. Semi-automatic shotguns are also known for less recoil and are ideal for women or youth.
Ryan Link, GMM/Director of Merchandising at Big Rock, confirmed the data's findings. "Participant growth and consumer demand continues to be elevated in semi-auto shotguns coming out of the Covid period," he said. "The supply in the semi-auto segment to meet this new demand, while improving, continues to be constrained." He was also sure to highlight growing shotgun popularity. "All shotgun segments continue to perform above historical 2019 levels and points to the increase in the number of participants in the sport that are leaning into this segment currently for their sporting needs."
Link also explained the pattern of pump gun sales. "During the last few years, we witnessed many manufacturers and models enter the pump market increasing overall inventory levels in the marketplace. There has not been the same level of supply increase in the semi-auto segment, against the backdrop of increasing participants, and therefore we have seen more consistent demand in the semi-auto segment."
SCOPE now offers retail data in addition to distributor data, though only 2021 and 2022 data is currently available in CLX. This is still valuable as it complements distributor data.
Retail data shows that semi-automatic shotguns are still outpacing pump-action guns, but the gap closed in 2022. This year, pump actions made up 37.4 % of the shotgun market, compared to 33.3% in 2021. Semi-automatic shotguns made up 48.1% of the 2022 shotgun market, a 7.5% decrease from 2021. When separated by application, the data reveals that while sales of tactical shotguns have declined across the board, semi-automatic tactical shotgun sales have fallen off at a faster rate, likely due to price. Currently, the SCOPE sample of retails are showing an increase in field guns year over year, though tactical guns still make up nearly three-quarters of the pump and semi-automatic shotguns sold.
Peter Lehman has been working at Fin Feather Fur, a popular Ohio sporting goods chain, since May of 2020. He said that shotguns are very popular, but "for the right purpose. Most shotgun buyers are looking for waterfowl, turkey, and old school deer hunting. Shotgun purchases for home defense still occur, but pistols and rifles are the popular options for home defense." He also said that whether a customer purchases a pump shotgun or semi-automatic shotgun typically depends on price. "If the buyer has a more conservative budget to make a purchase, a pump shotgun is the usual route they take. If they bring an appropriate budget, they usually go with the semi-automatic option," he said.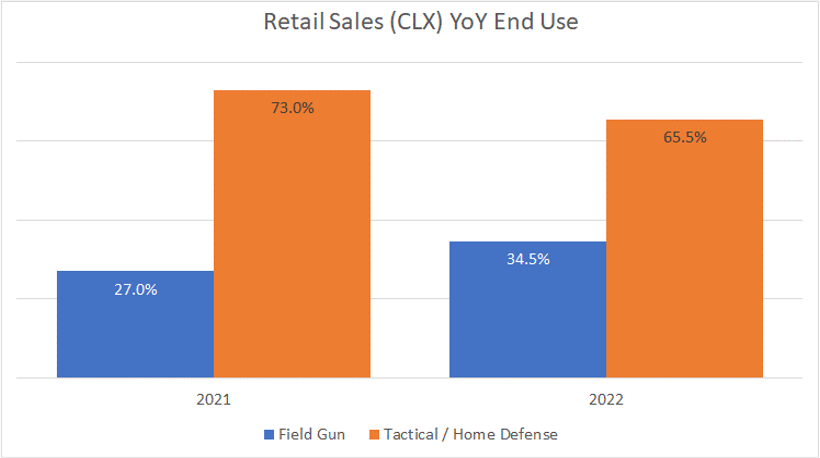 Retail sales data confirms the market move from tactical/home defense to field guns. Though CLX currently only includes data from 2021 and 2022, over this one year field guns have grown 7.5%. More hunters are heading into the field and perhaps bringing new hunters with them, as indicated by the growth of semi-automatic field guns.