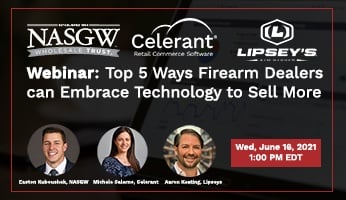 Staten Island, NY (June 10, 2021) – Leading firearms retail software vendor, Celerant Technology, is hosting a new webinar event together with industry partners, National Association of Sporting Goods Wholesalers (NASGW), a member-driven association in the shooting sports industry and provider of SCOPE CLX; and Lipsey's, one of the largest independently-owned wholesale firearms distributors in the country. This webinar will educate firearm dealers on ways to run their businesses more efficiently, and sell more products in store and online with the latest technology used in the industry. The webinar will take place June 16th at 1:00 pm EST.
"With so many changes this past year, it's time to step back and determine which technology will move your business forward," stated Michele Salerno, Director of Marketing, Celerant. "Regardless of which retail software provider you use, your point of sale should do much more than simply track inventory and process sales. In this webinar, you will see, first-hand, how a point of sale can be the backbone of your entire business and help you sell more, with less effort, through integrations with your distributors, eCommerce, store kiosk and so much more!"
Webinar Topics
During this webinar, firearm industry experts from NASGW, Lipsey's and Celerant will discuss five ways dealers can embrace technology to significantly increase ROI. The topics will show dealers how to: (1) make better buying decisions, (2) automatically order inventory 'just in time', (3) get products from distributors as soon as it is available, (4) offer an 'endless aisle' of merchandise, and (5) drive repeat business to your gun shop and range.
"Dealers have been overwhelmed for over a year and may have put new initiatives on hold," stated Aaron Keating, Vice President of Technology and CIO, Lipsey's, "During this session we'll elaborate on how moving in the opposite direction is the smarter approach. While you might not be able to offer an 'endless aisle' of ammo and handguns right now- there are products available to promote. This is a great time to diversify your product line and start automating processes so when the industry changes and it's time to compete – you'll be ready."
"We will take this session full circle," stated Easton Kuboushek, MPA, Director of Data Program, NASGW, "Starting with how industry-data can be used to ensure dealers order the right products, we will also discuss how to get faster access to inventory as it becomes available by distributors so dealers can sell wider product lines while stocking less, and how to better market to local customers to increase sales. It's a session firearm dealers won't want to miss."
To register for the free webinar 'Top 5 Ways to Embrace Technology to Sell More', please visit:
https://www.celerant.com/events/top-5-ffl-technologies/
About Celerant Technology
Celerant has been supporting the outdoor and firearms industry since 1999 with innovative retail software, enabling FFL dealers to expand their business both in store and online. As a preferred software provider for the NSSF, NRA and NASGW, Celerant supports dealers through point of sale, eCommerce, distributor integrations, A&D/e4473, range and membership management, marketplace integrations (i.e., Weapon Depot, GunBroker, gun.deals, Guns.com, Everest.com) and more. For more information, please visit www.celerant.com/firearms.
About Lipsey's, LLC
Located in Baton Rouge, Lipsey's was originally formed as a wholesale hunting and fishing distributor in 1953. Over time, Lipsey's position in the firearms industry has steadily risen to become one of the top firearms distributors in the country. Today, the company leads the market in the collaboration and distribution of exclusive firearms. With a committed focus on relationships, Lipsey's provides value and innovation to federally licensed firearms dealers and the industry's top manufacturers. Lipsey's also prioritizes community, charitable giving and wildlife conservation and has been recognized locally and nationally for its many team-led contributions. To learn more, please visit www.lipseys.com.
About National Association of Sporting Goods Wholesalers (NASGW)
NASGW was organized in 1953 and incorporated in 1954. The Association was originally identified as the Sporting Goods Jobbers Association. In 1962 the name was officially changed, and manufacturers and reps were invited to join as Associate members. The NASGW is the organizer and sponsor of the industry's former Hunting Show, now known as the NASGW Annual Meeting/Expo Event. This annual event provides an unmatched educational, marketing and communications opportunity for the hunting and shooting sports wholesaler, manufacturer and sales professional. For more information, visit www.nasgw.org.