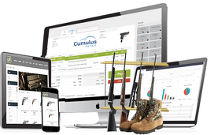 Celerant Technology has supported the outdoor and firearms industry since 1999 with innovative retail software, enabling FFL dealers to expand their business both in store and online. As a preferred software provider for the NASGW, NSSF and NRA, Celerant supports firearm dealers through mobile point of sale and kiosks, eCommerce, curbside pickup, endless aisles, distributor integrations, A&D/e4473, range management, membership management, marketplaces, digital marketing and more. To help dealers be more competitive and operate more efficiently, Celerant has integrated their software solution with many leading 3rd-party solutions in the firearms industry.
SCOPE CLX
Celerant is a preferred POS provider for SCOPE CLX, a sales data program that helps retailers understand customer demand and trends. Through Celerant's point of sale integration, this service is offered as a value-add to all firearm dealers.
Distributors
Celerant is continuously expanding its distributor integrations, offering the flexibility to carry products from your preferred vendors. Through Celerant's integrations, dealers can import product catalogs and automate order replenishment with no manually data entry; and leverage their distributor's 'live product feeds' and drop shipping services to get online quickly; and offer more products with less effort through Celerant's in store kiosks and eCommerce platform. Big Rock Sports is the most recent distributor partner, joining Sports South, RSR Group, Davidson's, Lipsey's and others.
Marketplaces
Celerant makes it easy for dealers to expand online sales by integrating with many popular online marketplaces/auction sites. Through the integration, dealers can easily push products to the 3rd-party shopping site, and have orders flow directly into your Celerant software, with no need for manual data entry. Marketplace integrations include Gunbroker, Guns.com, deals.guns, Weapon Depot, Amazon, eBay, Walmart, and more.
ATF Compliance
To help dealers maintain compliance, Celerant includes an electronic bound book, fully integrated at the point of sale. The A&D book automatically records every gun sale, allows you to view the history of any firearm and produces ATF-formatted reports. Dealers also have the option to integrate with FastBound's electronic A&D book/e4473, backed by FFLGuard for legal compliance, or coming soon an integration to Gun StoreMaster. Dealers with a range can integrate with Smart Waiver to digitalize and manage their waivers.
Learn more about Celerant's retail solutions
Celerant offers two FFL retail solutions - Cumulus Retail™, an affordable and powerful point of sale and eCommerce solution for small business; and Stratus Enterprise™, a custom omnichannel commerce platform with advanced features. For more information, please visit https://www.celerant.com/lp/nasgw/.