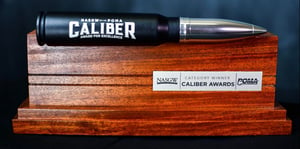 The 2019 Caliber Awards Finalists have been selected for the 3rd annual NASGW-POMA Caliber Awards.

The National Association of Sporting Goods Wholesalers (NASGW) in partnership with the Professional Outdoor Media Association (POMA), have chosen the top products in six categories including: Best New Rifle, Best New Handgun, Best New Shotgun, Best New Ammunition, Best New Optic, and Best New Accessory. An independent panel of 18 industry judges will select the winners in each category as well as a Best Overall New Product. In order to qualify, manufacturers needed to be a NASGW member in good standing, the product must have been publicly released between the end of last year's NASGW Expo and the beginning of this year's Expo, and submission of the products was required through the NASGW Expo New Product Showcase, found on the NASGW Expo website and NASGW Connect mobile app.

"In our 3rd year, the Caliber Awards continue to gain recognition as one of the top awards in the shooting sports industry," said Kenyon Gleason, NASGW president. "Our expert panel of 18 judges is choosing from the best of the best with some really innovative new products."
The Caliber Awards offer a unique, unbiased approach to recognizing and honoring new innovative products. The voting panel is comprised of the people who buy and sell these products on a daily basis as well as the media members who review and report on these products in the field.
"The Caliber Awards and our partnership with NASGW continue to be a great addition to the shooting industry," said POMA Executive Director Kevin Orthman. "It's great to see the product innovation and progress the industry continues to develop."

Being chosen as a finalist is an honor itself. Over 150 submissions were narrowed down by the panel to three finalists in each category. Judges were asked to consider the uniqueness, market need, the value of the product, the ingenuity, and presentation. The finalists for this year's Caliber Awards are:
Accessory
Huntego Limited - CleanShot
Mantis - Mantis X10
SIG SAUER - MOD X9
Optic
Leopold & Stevens - Freedom RDS
SIG SAUER - Romeo 8T
Trijicon - SRO
Shotgun
Dickinson Arms - Plantation Over & Under
Girsan - MC312 Gobbler
Franklin Armory - Reformation® RS7™
Rifle
CVA - Paramount
Remington Arms - Marlin 1895 Dark
Ruger - Precision® Rimfire
Ammunition
Hornady - A Tip
Remington Arms - Golden Saber
Winchester Ammunition - 350 Legend
Handgun
Mossberg - MC 1SC 9MM
SIG SAUER - P365 SAS
Walther - Q5 Match Steel Frame
Winners for the all-new Caliber Awards will be announced on October 22 at the NASGW Annual Appreciation Dinner during the NASGW Expo in Orlando, FL. The Annual Appreciation Dinner will also feature NASGW's Annual Appreciation Awards, honoring the year's strongest two-step distribution manufacturing partners. Tickets can be purchased online through the NASGW Expo website at nasgwexpo.org.