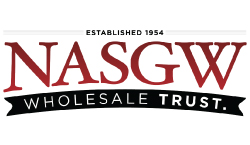 Despite the cancellation of the 2020 NASGW Expo, the 2020 Caliber Awards Finalists and Appreciation Award Nominees have been selected.
Each year, NASGW Awards the top optics, accessory, ammunition, and firearms manufacturers who best demonstrate a commitment to the two-step distribution process, and who provide outstanding value and service. Wholesaler members evaluate the performance of manufacturers on four key criteria; distribution policy, marketing, sales, and promotion; logistics and operations, and NASGW and industry support. This comprehensive assessment of manufacturer performance has been designed to provide a more balanced appraisal that truly recognizes the best of the best, according to NASGW distributor members.
This year's nominees are:
Firearm Manufacturer of the Year
Glock
Ruger
SIG SAUER
Smith & Wesson
Springfield Armory
Optics Manufacturer of the Year
Holosun Technologies
Leupold & Stevens, Inc.
Riton Optics
SIG SAUER
Trijicon, Inc.
Ammunition Manufacturer of the Year
Fiocchi U.S.A.
Hornady
Magtech Ammunition
PMC Ammunition
Winchester Ammunition
Vista Outdoor


Accessory Manufacturer of the Year
Amend2
Birchwood Casey
KCI USA
Magpul
SilencerCo
Vista Outdoor
Importer of the Year
Aguila
Century Arms
CZ-USA
Eagle Imports
Magtech Ammunition
PMC Ammunition
Tristar Arms
Innovator of the Year
Hornady
Ruger
Shadow Systems
SIG SAUER
Springfield Armory
In addition to the Annual Appreciation Awards, the National Association of Sporting Goods Wholesalers (NASGW) in partnership with the Professional Outdoor Media Association (POMA), have chosen the top products in six categories including: Best New Rifle, Best New Handgun, Best New Shotgun, Best New Ammunition, Best New Optic, and Best New Accessory. An independent panel of 18 industry judges selected the winners in each category as well as a Best Overall New Product. In order to qualify, manufacturers needed to be a NASGW member in good standing, the product must have been publicly released between the end of last year's NASGW Expo and the beginning of this year's Expo, and submission of the products was required through the NASGW Expo New Product Showcase, found on the NASGW Expo website and NASGW Connect mobile app.

"This has been crazy year indeed, but in its 4th year, the NASGW and POMA voters narrowed down some incredible products to a list of three finalists in each category," said Kenyon Gleason, NASGW president. "Our expert panel of 18 judges were challenged in choosing the best of the best in a year where everything seemed to be flying off the shelves."
The Caliber Awards offer a unique, unbiased approach to recognizing and honoring new innovative products. The voting panel is comprised of the people who buy and sell these products on a daily basis as well as the media members who review and report on these products in the field.
"Being chosen as a finalist for the Caliber Awards is an outstanding recognition," said POMA Executive Director Thomas MacAulay. "We appreciate the outstanding innovation across our entire industry. I can't wait to see what next year holds."

Being chosen as a finalist is an honor itself. Over 150 submissions were narrowed down by the panel to three finalists in each category. Judges were asked to consider the uniqueness, market need, the value of the product, the ingenuity, and presentation. The finalists for this year's Caliber Awards are:
Best New Accessory
Mantis - Blackbeard
Lyman Products - Borecam™ Pro Wireless Borescope
1791 Gunleather - Ultra Custom Holster
Best New Optic
Crimson Trace - Railmaster Pro 301 Laser/Light Combo
Leupold - Deltapoint Pro NV
SIG SAUER - RomeoZero
Best New Ammunition
Federal Ammunition - Force X2
Federal Ammunition - Hydra•Shok Deep 380 Auto
HSM Ammunition - 6.5 Creedmoor Low Recoil
Best New Handgun
Glock - Glock 44
Ruger - Ruger-57™
Springfield Armory - Hellcat OSP
Best New Rifle
Bergara - Mountain Rifle 2.0
POF USA - Rogue .308 Carbine
SIG SAUER - Cross Rifle
Best New Shotgun
Mossberg - 940™ JM Pro
Savage Arms - Regegauge
TriStar Arms - Trinity Over and Under
Winners for the all-new Caliber Awards will be announced on October 20th through a virtual announcement. Please stay tuned to NASGW and POMA's social media for details.


About NASGW
The National Association of Sporting Goods Wholesalers is comprised of wholesalers, manufacturers, independent sales reps, media and service providers - both national and international - all of whom are primarily focused on shooting sports equipment and accessories. As a trade association representing the business interests of its members, NASGW's mission is to bring shooting sports buyers and sellers together. For more information about the NASGW, visit the association's website at www.nasgw.org.

About POMA
POMA continues to uphold its tradition of promoting excellence in communications at all levels. This includes connecting the companies and organizations whose focus is the outdoor industry with the content creators who can help tell their stories and promote their products.