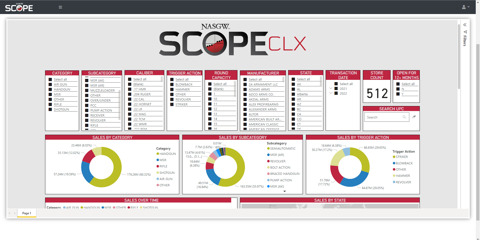 Ankeny, IA (September 14, 2022) -The National Association of Sporting Goods Wholesalers (NASGW) announces the full launch of SCOPE CLX, a platform that analyzes retail sales to empower shooting sports businesses. SCOPE CLX is a weekly sample of more than 500 stores reporting anonymously through leading point-of-sale software partners, including Coreware, Celerant, AIM and Orchid POS.
"Our industry has been craving deeper insight into consumer buying behavior and competitor performance," says Easton Kuboushek, NASGW Director of Data Programs. "SCOPE CLX is a great complement to NASGW existing programs that offer shooting sports businesses a macro and micro look at product performance.
"Most importantly, this initiative has brought our industry together around a common mission to improve data standards and access. Our point-of-sale, manufacturer and distributor partners understand the long-term mission behind SCOPE and CLX is another outcome of their support."

SCOPE first launched five years ago as a source of distributor sales and inventory data, now known as SCOPE DLX. In 2021, DLX tracked approximately 65% of the firearms market through distribution shipments. In the last two years, SCOPE has expanded to include an industry-wide product data standardization and distribution tool in SCOPE PLX, and now the full launch of the consumer data platform in SCOPE CLX. CLX's data sample of 500 stores is the largest available and represents a nearly identical geographic distribution to NICs checks and SCOPE DLX shipments, making it a trusted source.
"SCOPE CLX is truly a huge step for NASGW and the SCOPE platform," said Kenyon Gleason, President of NASGW. "Now users can follow industry trends from the distribution channel right through to the retail level, creating a powerful way to analyze the market. Users will certainly have more insight on their product performance, marketshare, and consumer demand."
SCOPE CLX is currently available to NASGW members as an upgrade to the existing SCOPE DLX platform. If you are interested in learning more about SCOPE CLX, visit NASGW's SCOPE website (https://nasgwscope.org) to schedule a time to chat with the SCOPE team.
About NASGW
The National Association of Sporting Goods Wholesalers is comprised of wholesalers, manufacturers, independent sales reps, media and service providers - both national and international - all of whom are primarily focused on shooting sports equipment and accessories. As a trade association representing the business interests of its members, NASGW's mission is to bring shooting sports buyers and sellers together. For more information about the NASGW, visit the association's website at www.nasgw.org.