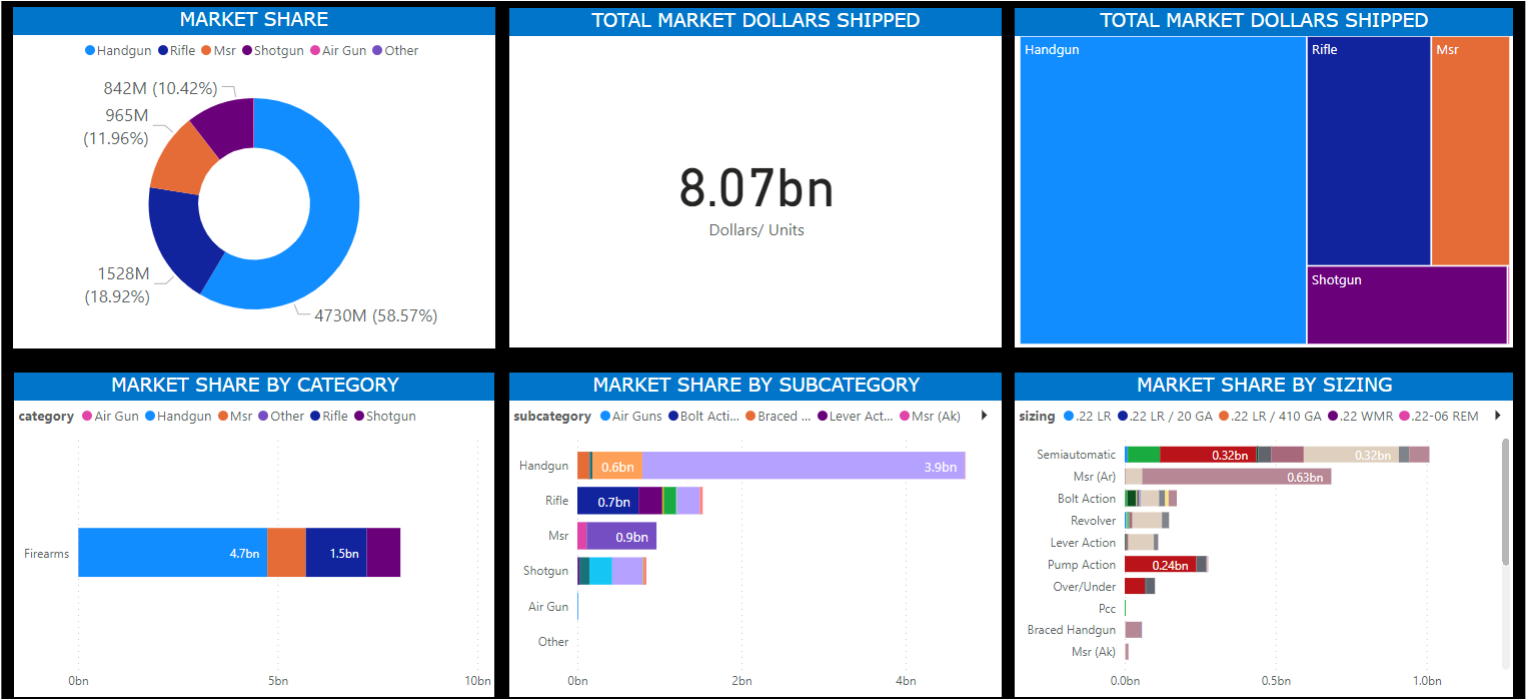 New to SCOPE in 2023, the Universal Dashboard offers great insight for businesses that need Market Intelligence but not the in-depth analysis offered by the higher tiers of SCOPE. If your business is looking to maximize the value of SCOPE's shipment and inventory data, the Universal Dashboard might be exactly what the doctor ordered.

Data analytics is all about finding answers to questions using past results. So knowing what questions to ask is a great starting point. The first question is usually, "What's going on in the market?". This is the most obvious and easiest to answer. Using the Universal Dashboard, you get a quick snapshot of sales by category, firearms, ammunition, and optics based on your specific timeframe. Finding the answer to your initial question should spark additional questions related to subcategories, calibers, sizes, date range comparisons, units vs. dollar volume, or geographic distribution.
Knowing how to dial in the data to provide the best answer is the next step after identifying the question you want to answer. The Universal Dashboard offers a myriad of ways to segment your results. For firearms, these include category, subcategory, sizing, round capacity, barrel length, trigger action, state, and region. Other categories are similar but will be more relevant to that specific product category.

The Universal Dashboard also allows you to toggle your results between seeing units sold or dollars sold. The granularity is where SCOPE shines compared to other data analytics platforms. As you can imagine, with so many data sources, there are just as many ways to tag products. NASGW is leading the way in creating data standards that wholesalers and manufacturers are adopting across the industry. SCOPE's standardized data tagging has helped map and align the various data sets helping you accurately analyze results.
Once you provide all the parameters needed to answer that question, the next step is reviewing the results. But what does the data look like? The Universal Dashboard is precisely that, a dashboard that provides a series of visualizations that organize and break down the data in an easily digestible way. For firearms, the results provide a map of geographic distribution, total dollars shipped by NASGW wholesalers, market share broken down by category, subcategory, size, and caliber, weeks of remaining inventory, and shipment trends over time. On top of the visualizations, all the data is exportable, allowing your internal team to import and analyze the data with other data sources.

The Universal Dashboard allows you to ask specific questions related to your business and find the answers you need. From a practical application, there is opportunity in the insights provided by data. Imagine a holster manufacturer that can identify emerging manufacturers, models, or sizes getting shipped in larger quantities than their previous top-selling holster. The ability to shift resources to the new opportunity and capitalize on the demand is powerful. The Universal Dashboard is equipped to provide this type of insight for firearms, ammunition, optics manufacturers, and accessory manufacturers that pair with firearms. If your business is selling products that require knowledge or insight of different firearms (categories, manufactures, models, calibers, sizes, features), the Universal Dashboard can help you identify opportunities.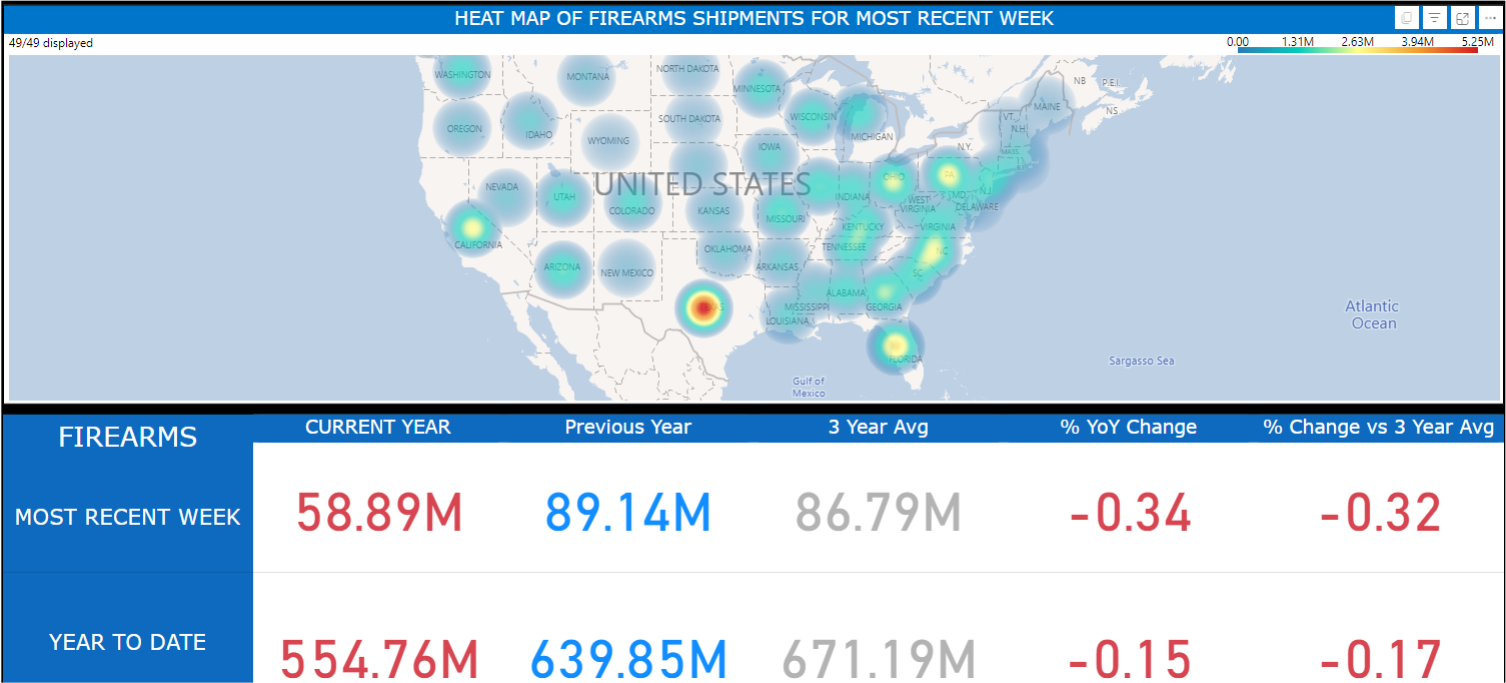 But the opportunity isn't limited to manufacturers. Manufacturer Rep businesses can now subscribe to SCOPE and utilize the Universal Dashboard. Gain insight that benefits all the brands you represent in a single subscription. You don't have to be a manufacturer to leverage the power of data. Our Rep Groups should also be able to track sales and inventory trends that help them provide the most value to their vendors. The Universal Dashboard truly opens up the possibility for many more NASGW members. We believe that data is the future of our industry, and we want to help you get there. SCOPE subscribers are also encouraged to leverage the expertise of NASGW's data team. Schedule monthly check-ins to better understand how to use the tools and analyze the results. Existing subscribers have been taking advantage of these ongoing meetings with great success, helping them maximize their understanding of the data and the value of their investment.
If the Universal Dashboard and a SCOPE subscription could benefit your business, we encourage you to schedule a demo with the SCOPE team. They will prepare a report specific to your business and walk you through various ways to leverage SCOPE. Don't let your competition have an advantage in today's competitive marketplace. Let SCOPE help you make smarter decisions that drive your business forward.