The shooting sports industry's leading data platform is about to get a whole lot better in 2021, and the National Association of Sporting Goods Wholesalers (NASGW) is excited to share some more details about what is to come. When the NASGW originally set out to create a data platform, the focus was on providing wholesale members a way to easily share reports with their manufacturing partners as well as a reporting tool for manufacturers to evaluate their performance against the rest of the industry. The more users and NASGW's development team dug into the data, the more everyone realized just how beneficial it could be.
Three years after the initial release of the SCOPE program, NASGW's data partnerships have grown and so has the suite of tools that fall under the SCOPE umbrella. Here's a breakdown of the full SCOPE Suite from NASGW.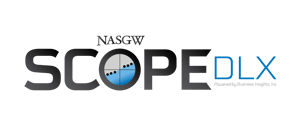 SCOPE DLX
What started as the industry's first comprehensive data program, SCOPE has now taken on the new name SCOPE DLX (Distributor Link Exchange). SCOPE DLX is a reporting and analytics tool showcasing distributor shipments and inventory. It allows manufacturers to easily see inventory levels for each of their products in their participating wholesalers' warehouses. On top of that, SCOPE DLX allows manufacturers to analyze distributor sales to the dealers and compare those sales to the rest of the industry, by product type and caliber. This simplifies the reporting process for wholesalers and creates transparency, strengthening the wholesale partnership.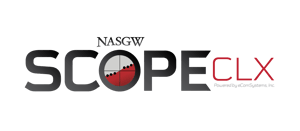 SCOPE CLX
In 2020, NASGW also launched a beta version for SCOPE CLX (Customer Link Exchange), a new, sophisticated platform that allows retailers to share their sales data with each other and manufacturers. SCOPE CLX will soon be available to all NASGW members and, when paired with SCOPE DLX, users will have access to retail sales data, segmentable by region, product type, caliber, and more. SCOPE CLX will take the guesswork out of analyzing the market and provide clear insight and direction for manufacturers as well as distributors. Data can be easily downloaded and integrated into users' business analytics platforms. NASGW is currently leveraging partnerships with the industry's top POS providers to onboard additional retail locations, substantially growing the number of participating dealers. While similar platforms are available, NASGW's unique relationship with industry wholesalers and manufacturers allows for the strongest and most accurate data sample in the industry. Plus, NASGW's partnership with multiple POS platforms has laid the groundwork to scale SCOPE CLX exponentially in the very near future. So strap in and get ready to take advantage of this tool that will only be available to NASGW members.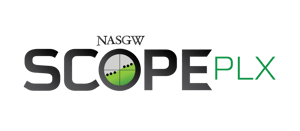 SCOPE PLX - COMING SOON
As NASGW has continued to compile the largest and most accurate sample of sales and inventory data, they've also worked with wholesale and manufacturing partners to compile product information that can be referenced consistently throughout the industry. NASGW's team of developers is working on standardizing this product data to help manufacturing partners manage and distribute the most accurate set of product details, images, and specifications in the industry. Manufacturers will have one input that will feed to wholesalers and on to retailers. This will help ensure an accurate and efficient process to disseminate information across the shooting sports industry. SCOPE PLX (Product Link Exchange), will be the central hub of product information for the entire SCOPE platform and beyond.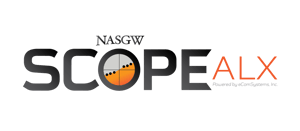 SCOPE ALX - COMING SOON
Along with the data analytics and product information, NASGW is also working with eCom Systems Inc to create an advertising tool for retail partners who contribute their data to SCOPE CLX. This advertising tool is called SCOPE ALX (Advertising Link Exchange). Fed by the largest and most accurate database of shooting sports product information, SCOPE ALX will allow retailers to easily build ads, publications, point of sale material and marketing collateral by pulling in the product specs, images, and descriptions provided directly by manufacturers. This platform can be accessed online through an internet browser, so no special software is needed. SCOPE ALX will eliminate the need for a graphic designer and product copywriter. Users can choose from a large variety of templates, themes, and layouts to create their own branded marketing material. This platform has been tested across other industries and is now available as a benefit to shooting sports retailers that contribute to SCOPE CLX.
Data is here to stay, and NASGW is uniquely positioned to create solutions that benefit businesses at every level of the shooting sports industry. Their wholesaler members have taken a leadership role in creating these solutions to strengthen the industry now and into the future. Partnerships matter, and the SCOPE suite of tools is a great example of how the shooting sports industry can do more by working together. NASGW looks forward to sharing these amazing tools with your business and hopes that their data solutions can be part of your company's growth.