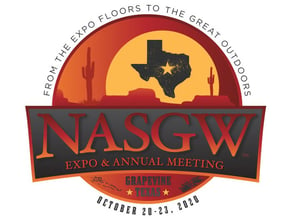 The National Association of Sporting Goods Wholesalers' Board of Directors voted unanimously today to cancel the 2020 NASGW Expo that was scheduled for October in Grapevine, Texas.
NASGW leadership has been monitoring the mounting cases of COVID-19 in Texas and the expanding travel restrictions throughout the country. Despite extensive planning and precautions taken to limit risk, the health and safety of our members and the shooting sports industry is the top priority.
"As cases have continued to increase and travel restrictions are starting to expand, this decision is best for the health and safety of our members," said Laurie Aronson, NASGW Chairwoman. "We need to protect our industry right now, and unfortunately that means canceling the NASGW Expo."
NASGW is currently working with the hotel, convention center, and vendors regarding the cancellation. Resources for members and exhibitors will be available in the near future. NASGW is looking forward to the 2021 Expo on October 27-29 in Columbus, Ohio.
"For many in our industry, the NASGW Expo is their most productive event because it is very business focused," said Kenyon Gleason, NASGW President. "Unfortunately, bringing people together in 2020 is not the best thing for our association, our industry, or our country. This was a very difficult decision, but one that ultimately proved the most responsible course of action."
For current information regarding the 2020 NASGW Expo, please visit nasgwexpo.org.
About NASGW
The National Association of Sporting Goods Wholesalers is comprised of wholesalers, manufacturers, independent sales reps, media and service providers - both national and international - all of whom are primarily focused on shooting sports equipment and accessories. As a trade association representing the business interests of its members, NASGW's mission is to bring shooting sports buyers and sellers together. For more information about the NASGW, visit the association's website at www.nasgw.org.