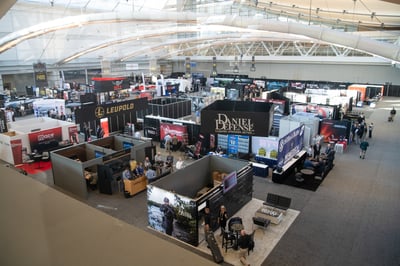 Those who have been in the shooting sports industry long enough have undoubtedly heard of NASGW and the Annual NASGW Expo. The Expo is the premier event for wholesalers and manufacturers to connect, discuss sales results from the current year, introduce new products, and plan sales for the upcoming year. It is an efficient week for manufacturers and wholesalers alike. They get a few days to meet with as many partners as possible, all in one location, and without the involvement of consumers or dealers, so it's a very "focused" opportunity.
SHOT Show and the NRA show are great events, but they serve a different purpose. The Expo is all about getting business done. For many NASGW members, the Expo in mid-to-late October is their favorite show of the year because it's both productive and laid back. So, how can new wholesalers and manufacturers exhibit at the next NASGW Expo? This step-by-step guide will help. Here's a quick breakdown on how to become an exhibitor.
Step 1: Determine If Your Business is Ready to Exhibit
Occasionally, a new exhibitor will attend the Expo, not having prepared in advance, and will leave feeling a bit disappointed in the results of their first show. There are certain things you'll want to have in place and understand about your business, financials, production, and marketing. Distributors can be a great partner in helping move product, but you need to be prepared in order to help them help you. Step one to exhibit at the NASGW Expo is to complete the
Exhibitor Questionnaire
. This short quiz will help determine if you are ready for wholesale and provide you feedback either way. The last thing you want is to spend hard earned dollars to sit in a booth for four days without connecting with anyone. NASGW wants the experience to be productive for you and wholesaler members. If you score high enough on the Exhibitor Questionnaire, you will have the ability to join NASGW and exhibit at the Expo. If you do not score high enough, there are some areas for your business to focus on before you'll be ready to exhibit.
Step 2: Join NASGW & Book a Booth
Once you complete the Exhibitor Questionnaire with a passing score, you'll be able to join the association and reserve booth space.The NASGW team will assist you in booking your booth. A deposit will be required to secure your space, and the balance of booth fees will need to be paid in full by July. The Expo typically has approximately 225-250 exhibitors based on the venue, so availability is limited. The sooner you reserve your space, the better.
Step 3: Schedule Meetings
Upon booking a booth space, you will be able to obtain a list of all NASGW Wholesalers with company contact information, who typically attend our Expo. Do not disregard that list. With a limited number of wholesalers and a limited amount of time, meetings can be hard to come by if you get in the game late. It's highly recommended that you connect with wholesalers months in advance to get on their calendars. The week quickly fills up with meetings, even before the Expo floor opens, so the sooner you can schedule meetings, the better.
Step 4: Take Advantage of Promotion Programs
To build brand recognition and get your products in front of Expo attendees, NASGW recommends submitting any new products launched in the last year to the New Product Showcase. These submissions will also be enrolled in the Caliber Awards, which recognize the Best New Product in six categories as well as the Best New Overall Product. Along with the New Product Showcase, consider taking advantage of the Expo Exclusive Program, an exclusive offer to wholesalers only available during the Expo. Once your booth is booked, you will receive future communications on both of these programs so you know what needs to be submitted and when.
Step 5: Network, Network, Network
As in any industry, building a network of industry professionals will expand your access to opportunities. The NASGW Expo offers you access to some of the best networking opportunities you'll find anywhere. Attendees are typically decision-makers at the manufacturing and wholesale level, along with some influential members of the media. Take the time to participate in the extracurricular activities like the Annual Appreciation Dinner, Networking Receptions, and even after-hours at the hotel bars and restaurants. These events are great opportunities to meet new people and expand your professional network.
Step 6: Follow Up and Stay in Contact
Relationships don't end when you leave the Expo. Stay in contact with the distributors and other contacts you meet. Foster the relationships that you initiate at the Expo in the months after the event. Many members who attend the Expo have been coming for several years and have formed strong relationships during that time. These relationships play a huge part in building a strong business in this industry, and this is your opportunity to grow and strengthen your relationships through membership with NASGW.
If you think two-step distribution is a good fit for your business, take the first step toward exhibiting at the NASGW Expo.