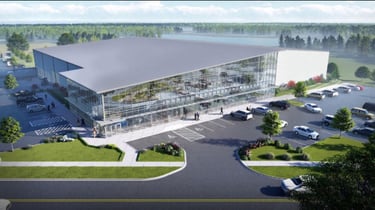 Orion Wholesale is pleased to announce a new headquarters facility in the Greater Louisville area just across the Ohio River in southern Indiana. The 130,000 square foot distribution facility and corporate offices are set to open in the fall. The expansion will enable Orion Wholesale to serve its dealer base and vendors well beyond 2021. The new construction will add sales offices, conference rooms, product training rooms and state-of-the-art warehousing that will add the ability to streamline inventory, shipping and receiving processes.
"This is great news for one of our NASGW members," said Kenyon Gleason, NASGW President. "Getting products in the hands of the consumers is the name of the game in our industry and this new facility will help Orion Wholesale do just that on a whole new level, for decades to come."
With a greater offering of products, and support of additional lines of merchandise paired with the ability to ship a larger inventory in a faster time frame, Orion Wholesale will operate at the next level. This plan for expansion is already impacting additional business with the acquisition of more vendors and manufacturers and is also resulting in an immediate need to recruit people in sales, purchasing, marketing, warehouse, and accounting staff.
Brent Taylor, Orion Wholesale VP says: "With this new space, we are committed to the shooting sports industry and two-step distribution for the next 50 years."
Orion Wholesale's new location- just minutes away from Louisville, KY- is home of the Kentucky Derby, American tobacco, and the Bourbon Trail. Founded in 2012, Orion Wholesale has grown from a regional to a nationwide distributor carrying over 120 product lines in the shooting sports industry. With a commitment to customer service, competitive pricing, and timely deliveries, Orion is geared for success in 2021 and beyond.