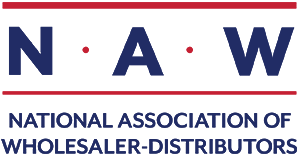 The National Association of Sporting Goods Wholesalers (NASGW), the association representing shooting sports wholesalers, manufacturers, and their trade partners, is pleased to announce that Kenyon Gleason, the President of NASGW, was elected by members of the National Association of Wholesaler-Distributor's (NAW) Association Executive Council (AEC) to serve as the Chairman-Elect. In this capacity Gleason will also serve on the NAW Board of Directors.
"Serving as a leader of the NAW-AEC is truly an honor for me," said Gleason. "I work collaboratively with my colleagues and counterparts from a whole host of industries that focus on the 2-step distribution model. I've learned an incredible amount from this organization and from the leaders who share my passion for promoting and supporting the distribution model, no matter the industry. In addition, serving on the NAW Board of Directors will also allow me the opportunity to better understand the many business-related issues that NAW is working on in Washington, DC, issues that address many of the critical challenges our NASGW distributors face on a day-to-day basis."
NAW is located in Washington, DC, and represents the $6 trillion merchant wholesale distribution industry, which moves to market virtually every kind of product in the U.S. economy. The election was held at NAW's AEC meeting in Washington, DC, January 28, 2020. The NAW Association Executives Council provides a forum for association executives in the distribution industry to learn and grow.
"We're delighted to have Kenyon in the AEC leadership and on the NAW Board of Directors," said NAW President & CEO Dirk Van Dongen. "He is a proven leader with deep government affairs experience and will be a strong asset to NAW"
The National Association of Wholesalers-Distributors (NAW - www.nasgw.org) is comprised of international, national, regional, state, and local associations and their member firms, which totals more than 30,000 employers.
About NASGW
The National Association of Sporting Goods Wholesalers is comprised of wholesalers, manufacturers, independent sales reps, media and service providers - both national and international - all of whom are primarily focused on shooting sports equipment and accessories. As a trade association representing the business interests of its members, NASGW's mission is to bring shooting sports buyers and sellers together. For more information about the NASGW, visit the association's website at www.nasgw.org.