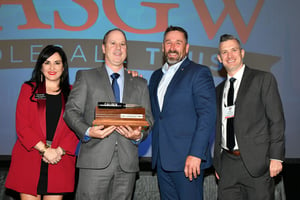 The National Association of Sporting Goods Wholesalers (NASGW), the association representing shooting sports wholesalers, manufacturers, and their trade partners, announced the winners of their annual Appreciation and Caliber Awards last night at the NASGW Expo Appreciation Dinner.
"The Annual NASGW Appreciation Dinner is the kickoff event for our NASGW Expo and an event we look forward to all year," said Kenyon Gleason, NASGW President. "It's an opportunity for us to recognize our partners who exemplify a commitment to two-step distribution. For the third year, we also got to recognize some truly innovative products with the NASGW-POMA Caliber Awards. "

The Annual Appreciation Dinner is one of the premier events at the NASGW Expo, which brings together wholesalers and manufacturers within the shooting sports industry to get a first look at new products and plan sales for 2020.

Winners for the NASGW Appreciation Awards are:
Firearm Manufacturer of the Year
Optics Manufacturer of the Year
Ammunition Manufacturer of the Year
Accessory Manufacturer of the Year
Importer of the Year
Innovator of the Year
In addition to this year's Appreciation Awards, NASGW partnered with the Professional Outdoor Media Association (POMA) for the third year, to select the best new products in six categories as well as an overall best new product. "The Caliber Awards represent the best in product innovation for 2019," said Kevin Orthman, the Executive Director with POMA. "We had plenty of great new products this year and it is truly an honor to be chosen as a finalist. Congratulations to all of the 2019 Caliber Award winners."

To qualify for the Caliber Awards, manufacturers must be a NASGW member in good standing, the product must have launched within the last year, and products needed to be submitted through the NASGW Expo website.

Winners for the NASGW-POMA Caliber Awards are:
Best New Accessory
Best New Optic
Best New Ammunition
Best New Handgun
Best New Rifle
Best New Shotgun
Franklin Armory Reformation® RS7™

Best New Overall Product
In addition to the Appreciation Awards and Caliber Awards, Laurie Aronson, the NASGW Chairwoman presented Bob Coyle of TALO Distributors Inc. with the Chairwoman's Award and Steve Sanetti of NSSF with the Lifetime Achievement Award.

About NASGW
The National Association of Sporting Goods Wholesalers is comprised of wholesalers, manufacturers, independent sales reps, media and service providers - both national and international - all of whom are primarily focused on shooting sports equipment and accessories. As a trade association representing the business interests of its members, NASGW's mission is to bring shooting sports buyers and sellers together. For more information about the NASGW, visit the association's website at www.nasgw.org.

About POMA
POMA continues to uphold its tradition of promoting excellence in communications at all levels. This includes connecting the companies and organizations whose focus is the outdoor industry with the content creators who can help tell their stories and promote their products.