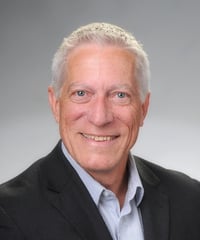 A new year brings about changes at NASGW. After a 2-year term, plus an additional year due to COVID, Laurie Lipsey Aronson is handing her duties as the Chair of the NASGW Board of Directors to Chris Means, President of Tactical Gear Distributors. Chris has spent two years as a member of the Board, helping guide the association through the tumultuous times of the pandemic. He is no stranger to the Shooting Sports Industry, getting his start in 1987 with Outdoor Sports Headquarters, the biggest distributor in the nation at that time.
"It's been a long journey, and I've met so many great people along the way," said Means. "I'm proud to have served so many great businesses in this industry in a variety of roles. This is an amazing industry, and I'm looking forward to this new role as the Board Chairman at NASGW."
Before joining Tactical Gear Distributors, Means held roles at Bangers (now Iron Valley Supply Co.), Ellett Brothers, Big Rock Sports, and The Mako Group. His knowledge and decades of experience in distribution will undoubtedly help guide the association for the next two years.
In addition to the change of the Chairman, Bob Hunter of Big Rock Sports also joined the Board of Directors back in October, replacing Gary Zurn following his sudden passing. Bob Hunter brings a wealth of experience working with one of the largest distributors in the country.
The 2022 NASGW Board of Directors is as follows:
Chris Means – Chair - Tactical Gear Distributors
Jeff Pugh – Vice Chair – Iron Valley Supply
Malcolm Getz – Treasurer – Camfour
Laurie Lipsey Aronson - Director - Lipsey's
Stefanie Zanders – Director – Zanders Sporting Goods
Larry Massimo – Director– Davidson's
Bob Hunter – Director – Big Rock Sports
Kenyon Gleason – President – NASGW