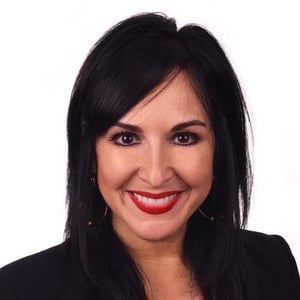 A nice, normal Thanksgiving was in order for the Lipsey family this year. Instead of making reservations, we made turkey. Instead of dressing up in our holiday best, we just ate dressing. Followed by lots of dessert and chocolate sauce. We celebrated in my parents' new home which made it extra special and we started a new tradition. It was just the way it should have been.
Tradition has always been a meaningful part of our industry as well – from growing up in family businesses, to the hunts we experience together, to attending the trade shows, to the bar scene after-hours. Each one of those experiences are special and draws us closer together.
As I enter my last month as the Chairwoman of NASGW, I have been reflecting on all that we've experienced together over the previous three years. It has been a period that will undoubtedly be remembered for a very long time. From the "normal-paced" times during Trump's administration, to the pandemic, riots and protests, supply shortages, and the historical sales in our industry, we've seen a little of everything in the last three years. But I keep coming back to the steady resolution across our industry. We overcame so many challenges together and came out stronger on the other side. There is still a lot of work to do, but I'm proud of how far we've come. I am proud of the opportunity to have served as the first Chairwoman of the NASGW. It truly has been an honor and I am grateful.
As I step aside, there is an even brighter future ahead for our Association. We continue to do big things and evolve the direction of our role in the shooting sports industry. Two-step distribution remains the best way to distribute products across the country and beyond, and the pandemic only strengthened our relationships and expanded our capabilities. After the Expo, SCOPE continues to ride a massive wave of momentum through the continued evolution, and the innovation that Easton and the development team have fostered. And I couldn't be more excited to welcome your new Chairman, Chris Means of Tactical Gear Distributors.
Chris Means has continued his rise through the industry from retail sales to Merchandise Manager to Director of Purchasing to Director of Sales and now holds the position of President of Tactical Gear Distributors. He knows this industry in and out and has spent time working for a few NASGW distributors. Chris brings a wealth of experience, knowledge, and a passion for our industry. He is driven and motivated to grow the impact NASGW has been making for our members. I hope you will all join me in welcoming Chris to his new role.
Finally, I want to give a big thanks to the staff at NASGW. We have a great team that continues to work tirelessly on our behalf. I want to thank Kenyon for his tremendous support during my time as the Chairwoman of NASGW. He has been an outstanding leader for our Association, and I know he will continue to push us forward. And finally, I want to thank all of the members of NASGW. It has been my extreme pleasure to serve you, and I appreciate your support of the Association. May you all have a great Holiday Season and a tremendous 2022.
Sincerely,


Laurie Lipsey Aronson
President and CEO Lipsey's
NASGW Chairwoman